Are You Looking To Extend The Lifespan Of Your Steel Building?
Steel buildings are in high demand right now!
But how can the average homeowner make metal buildings last longer?
However, when problems with steel buildings, or any other type of construction, they usually spring from the same problem: a lack of sufficient care and maintenance.
It's all too easy to brush aside a seemingly little issue, putting it on the back burner until it becomes a much bigger concern.
There are decisions you can make during the design phase of your prefabricated metal building to have answers to future difficulties in place ahead of time.  
An example would be that you don't want insulation for your new steel building, especially if you're attempting to save money up front.
However, this decision may come back to haunt you at a later time.
With good reason, blanket insulation is the most frequently recommended solution for prefabricated steel construction.
It eliminates steel-to-steel contact places within your building's structure, where a cold transfer could occur and cause condensation.
If you decide to "wait and see" if you need insulation or skip it entirely, you risk creating a future moisture problem that will cost you a lot of money in terms of time, labor, and materials.
Steel structures come with a variety of characteristics that help you save money in the long run by reducing upkeep.
They're known for their energy efficiency, architectural flexibility, and ability to withstand a wide range of weather conditions.
However, those qualities will only be maintained if you decide from the start to keep your building in great condition.
You should construct a checklist of items to examine for wear and tear on a regular basis, just like any other building owner.
Also, think about how you'd handle more extreme scenarios, such as hurricanes.
Checklist for Steel Building Maintenance
When employing steel buildings for projects such as garages, storage sheds or horse barns, it is imperative to make sure the space is secure and structurally sound.
You should never enter your outbuilding and question, "Am I in danger due to poor steel structure maintenance?"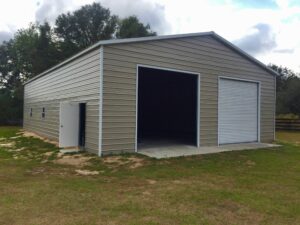 It's all too easy to forget to take the necessary precautions to maintain your buildings safety and security during its lifecycle.
Similarly, steel buildings used for business must be maintained on a regular basis to avoid injury and limit liability.
Here are some things to do if you own a steel building:
1.Examine all of the doors and windows. Rolling garage doors are particularly vulnerable to a faulty seal.
2.Be aware of the landscaping.
Hedges and bushes  should be planted at a safe distance from the structure and trimmed on a regular basis to avoid coming into contact with the structure's exterior.
While huge trees and bushes can jeopardize your building's foundation, lesser foliage can still be a hazard.
Plants growing against the building's side will block air from moving through, accumulating moisture that can lead to mold and fungus.
3.Clean out your gutters.
Drains and gutters are the best line of defense against future moisture problems, so keeping them clear and effective is critical.
If the same spots continue to be clogged, look for tree limbs that may be the source of the problem and get them removed.
Keep an eye out for tiny, less visible particles that could cause a clog. A power washer will assist you get rid of them.
4.Clean the building site with care.
The area around the construction zone should be clean and neat before the structure is ready for usage, whether it is for business or pleasure.
Boring holes may leave metal shavings on the roof and ground.
Sweep the area thoroughly, and make sure there are no ladders or other objects leaning against the building that could fall or put undue strain on the structure.
5.Prepare For Bad Weather.
Metal buildings are prefabricated and built to endure a variety of harsh weather conditions.
These features, on the other hand, are intended to keep you safe and secure in an emergency.
If you reside in a colder area, for example, snow should be swept off the roof whenever feasible to avoid stress on the structure.
Only clear the snow yourself if you're equipped with the right tools and know how to stay away from skylights and translucent roof panels.
Make sure the snow is pushed past the gutter. Look for buckles, leaks, and dripping insulation.  
If you live in the Florida area, you will deal with constant sun and the possibility of hurricanes so ensure building is stable and roof is firm.
If you are searching for a metal building of any kind, call the Florida steel building expert, Central Florida Steel Buildings and Supply