Metal Buildings and The Weather
Hurricane season is coming up, and while Florida has been relatively safe in the past few years, building engineers have made advancements in structural durability with pre-engineered metal buildings. These buildings can withstand nature's most treacherous moments, providing building owners with maximum damage protection.
Metal Buildings And Nature
While the need to code for metal buildings remains a discussion point, people in Florida have been exposed to tropical weather long before pre-engineered metal buildings. Many of the people who reside in Florida are concerned about the ability to withstand hurricane-like weather, and how metal buildings will fare during an extreme hurricane event. Fortunately, most pre-engineered metal buildings in the United States are also earthquake-resistant, making them effective structures for both climate change and extreme weather.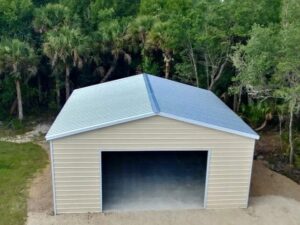 How Metal Buildings Can Withstand Extreme Weather
Pre-engineered metal buildings have several built-in features that help them withstand damage. They do not have the typical strength issues of timber buildings and, as a result, are often more cost-effective. Metal buildings are extremely ductile, meaning that they have the ability to bend without breaking in areas that are prone to earthquakes and high winds.
The strength-to-weight ratio is a measure that compares a building material's inherent strength to its weight. The higher the strength-to-weight ratio, the better a material will support itself under stress. Steel has the highest strength-to-weight ratio of any material, 25 times greater than wood.
Conclusion
Because metal buildings are more resistant to fire and have much thicker walls, they can withstand high intensity heat better than other types of building materials like concrete and wood. This is especially valuable for areas where high intensity weather is common, such as the Florida and Texas area. The only limit to the amount of load metal buildings can hold is the strength of the foundation, and with the steel and reinforced concrete foundations that metal buildings typically have, this limit is almost unbreachable. Most metal buildings will not ever sustain structural damage from flooding or earthquakes, a huge advantage over concrete and wood buildings.
If you need a new steel building, give Central Florida Steel Buildings and Supply a call today or visit our website at https://cfsteelbuidlings.com