How To Insulate An Existing Metal Building – 
The 3 Most Popular Methods
If you live in an area with extreme heat or cold, you will definitely want to insulate your new metal building.
But what if you just purchased a new property that included a steel building that has not been insulated?  Or perhaps you saved money when you installed your building by neglecting insulation.
While its true that it is much easier to insulate a metal building during construction, it can also be done to existing structures.
But why do metal buildings need to be insulated anyway?
Well, most importantly it ensures that you can be comfortable in the building when spending time there.
If your location has a high level of humidity like we do here in Florida, it can help to decrease the accumulation of moisture below the roof, reducing the likelihood of dampness inside the property.
And of course, it helps to keep building from being affected from outside elements.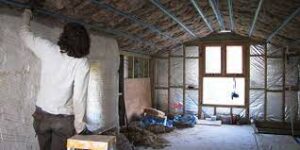 One thing to keep in mind however is that insulation is not fire resistant.  Keep that in mind if you store dangerous or flammable materials in your steel building.
So, without further ado, here are the 3 most popular methods that answer the question, "how to insulate an existing metal building"?
Spray Foam Insulation is a type of insulation that is applied with a spray gun.
Spray foam is an efficient and fairly simple technique to insulate a building that has already been erected with the panels in place.
You won't need to take the panels down; simply spray the foam over the desired area and let it dry.
The main disadvantage is that it is extremely difficult to remove after it has hardened. However, it has the advantage of sealing off your building and keeping pests and dust out.
Radiant Barrier Insulation: This insulation is installed between the support beams and the outer panels of the building.
Because it must be placed between the frame and the panels, this is the best option for insulation if you are adding it during the assembly of your metal building.
However, if your building is already built, you will need to remove the panels from the frame to install the insulation and then replace them.
Fiberglass Sheet Insulation: This is a type of insulation made of fiberglass.
It is the recognizable pink or yellow cotton candy-like insulation found in attics, basements, and other unfinished areas of a home.
Although this form of insulation can be employed, alternative methods are preferred since they are more moisture-resistant and more likely to stay in place. 
In other words, this should be your last choice to choosing how to insulate an existing metal building.
Central Florida Steel Buildings and Supply can assist you with the purchase of a new metal building or the addition of insulation to an existing metal building.
Call Central Florida Steel Buildings and Supply today at  (844) 372-3464 or get a quote.