Thinking About Investing In A Metal Shed?
A metal shed is ideal for anyone who has items that must be kept safe and secure, such as gardening tools, mowers, and other equipment.
In fact, a steel shed can be used for a variety of purposes too numerous to mention here.
However, selecting the best shed for your needs is not as easy as you think.
You need to ensure that your new shed fits the property dimensions perfectly and is not too big or too small.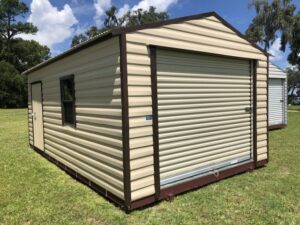 This post on metal shed buying tips will provide the help you need to find the perfect shed for your home.
Factors To Consider When Buying A Metal Shed
If you are ready to pull the trigger on a new steel storage shed, a few things to think about include:
Familiarity With Local Building Codes:  location determines building codes; therefore, it is imperative to check your local codes before purchasing your new shed.  It is likely you will need a permit and have to meet weather standards such as hurricanes in Florida and structure quality.

Appearance: When it comes to sheds, looks matter. An unattractive building will detract from the curb appeal of your property, lowering its value, and possibly making your neighbors angry. Make sure the style you choose complements or matches the style of your home.

Make Sure You Have The Budget: Before you start thinking about your new metal shed, figure out your budget. The larger the structure, the higher the cost, especially if you customize it to include various features. Other costs to consider include permit fees, grading the lot, hooking up electric, and much more.

Smart Purchasing: Regardless of your budget, it is critical that you invest in a long-lasting metal building. A low-quality shed is more likely to require repairs and, in extreme cases, replacement.

Figure Out The Installation: You can hire a professional or build your shed yourself. However, the assembly will be much easier if you choose a prefabricated metal building. These are highly recommended.

Purpose Of The Shed:  Consider how you will use the shed. If you intend to use it to store tools to garden with, you should construct it near your garden. If you're going to use it to store athletic equipment,  you might want to put it closer to the front door for convenience.
Landscaping Thoughts For Steel Sheds
Aside from the shed itself, you'll also need to consider the available land. You will need not only enough space to construct your backyard storage building, but you will also need to think about a few other things:
Wet Areas:: It is always a wise decision to keep your shed away from low-lying areas where water tends to collect. Water will flow around your shed, causing water leaks, water damage, mold, and other problems.

Flat Areas: You should build your shed on level ground. If it's on a slope, you'll have drainage issues when it rains, and your shed will flood much more easily. Grading may be necessary if your property lacks a level patch of ground.

Protect Your Valuables: Steel Sheds are much better at preventing theft than other types of sheds.  If you are keeping expensive or valuable equipment inside the shed, consider utilizing steel.  .
Central Florida Steel Buildings and Supply Is The Answer!
CF Buildings and Supply has a huge selection of prefabricated steel sheds in a variety of styles for our Florida customers.
These sheds can also be built to your exact specifications and used to store anything from a motorcycle to a lawnmower.
For more information on metal shed buying tips, visit our website at cfsteelbuildings.com.