Metal Building Add-Ons
Metal building additions are rapidly becoming known as a cost-effective option to increase your square footage.
Metal expansions are a viable solution to increase space to commercial businesses, storage facilities, warehouses, garages, community, and governmental structures.
Metal building add-ons are both practical and long-lasting because they let you stay in your current position while adding more space.
Steel structures are made to withstand all types of weather and last a lifetime. Additionally, they are very cost-effective, three times faster than traditional building construction, and simple to expand even further should you require more room in the future!  
Why Would You Need A Steel Building Add-On?
Your motivations for expanding are special to you, as are the reasons you invested in a prefabricated steel building to begin with. With that being said, there are many reasons for someone to expand their metal structure, but most people choose to do so because their current needs can no longer be supplied.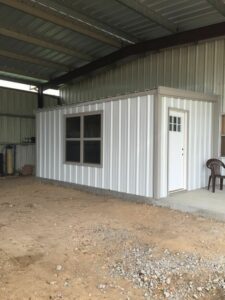 Here are a few of the most typical justifications for expansion:
Establishing a larger office for your business

In need of additional storage.

Expanding the company's workforce.

Extending your property with a guest house.
Things To Know Before You Expand Your Metal Building
Before investing in an add-on for your current steel building, there are a number of things to think about.
Fortunately, a lot of the factors you had to think about when determining whether to add a steel building to your current area are also factors you had to think about while selecting whether to implement the expansion process.
What is feasible for your expansion project depends on location, regional factors, and land.
Regional Factors
When you first plan to grow, you must obtain the necessary permissions to adhere to local laws for all additions.
The procedure is the same as it was for your original building, and before you begin your new project, you must ensure that it conforms with all HOA and local ordinances.
Location
The biggest thing to think about before opting to expand is making sure your existing site is suitable for your purposes.
If it is a business, you can keep your current clientele if you stay in the same spot, and you'll avoid the headache and disruption to your operations that come with moving to a new building.
Land
Does the current land you own have enough space to complete your new project?
Are you happy with the location and surroundings of your current building?  If so, then a metal add-on is undoubtedly a good choice.
The Different Ways To Expand Your Current Property
One way to expand is by adding length.
If your current building is of the post-and-beam variety, you won't be able to immediately attach to the original frame and will instead need to begin by replacing the end wall next to the existing end wall.
Another choice is to join the secondary frame of the new addition to the old primary frame. By doing this, you can extend the length of your building as much as necessary and add further bays to the back as far as the foundation allows.
Probably the best way to add to your existing steel building is to add width.
The expense of expanding your area is incredibly low when you add width to your existing building. You can add lean-tos to one or both sides and add extra bays if the roof line of your current structure is high.
Your roofline will be extended on the sides of a lean-to by adding a new frame that is joined to your existing frame.
Your existing walls can remain in place with this method, or if you want to expand the bay, you can take down the walls and install doors to keep the area more open.
Finally, you can choose to add height.
To achieve this, you might need to create a new frame in the foundation of the previous walls because adding height requires specific framing techniques.
Before bays and end walls can be built, certain support beams might also need to be removed.
Central Florida Steel Buildings and Supply is ready to satisfy your needs, whether you're seeking for steel building add-ons or a new metal building.
We provide buildings of the highest caliber at prices you can afford.
Contact us at 1-844-372-3464 or visit our website a https://cfsteelbuildings.com.
Check out, "Are steel buildings cheaper than wood"