Are You Interested in Metal Buildings Systems?
When a business or homeowner begins planning a new building, the first decision is…how big?
However, the more important question is, "how much space do I need now and how much will I need later"?
More and more the choice for large-sized structures is metal building systems.
The reasons are many…
Length can virtually be infinite because frames can always be repeated as many times as space is available on the building. For instance, you may need five bays or a factory with 100. There is no limit with a metal building.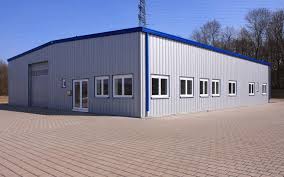 Metal buildings also require fewer repairs than conventional materials such as wood no matter what the structure size. There is much less wear and tear and the buildings are immune to pests such as termites.
Sustainability is another great benefit. Maintenance, energy consumption, and longevity are three factors that make steel buildings sustainable. These buildings can also be recycled. This has become even more important with the recent emphasis on global warming. The use of non-recyclable products are a danger to the environment. Metal is much better than other materials in that once they have outlived their usefulness, they can be recycled.
These buildings also provide the opportunity for aesthetic enhancements. Metal buildings are no longer rigid structures with no options for creativity. In the last few years, steel structures have evolved to allow for incredible aesthetic improvements.
Metal buildings do not require large support columns thus making them an appealing option for commercial ventures.
What About Cost?
Metal structures provide a cheaper alternative to other forms of materials. Although the initial cost may not seem large, the payoff occurs when the sustainability factor kicks in. No more yearly staining or painting. No more constant repair expenses.
On that note, these buildings will ultimately raise the value on the property and provide an attractive addition to any piece of land.
If you need steel buildings, consider calling Central Florida Steel Building and Supply. They supply any type of structure at a very reasonable price. They have two locations available in Ocala and travel throughout the state to install their buildings.
If you are interested in metal buildings, call today!