Are You Wondering About The Advantages Of A Metal Carport?
If you live in Florida and don't have a carport, you've will want to investigate getting one.
Metal carports not only provide a space for your vehicle, but they also provide weather protection and can come with walls if you want to add storage space as well.
If you are considering purchasing a carport, Central Florida Steel Buildings and Supply is the answer.
We have been constructing carports for our customers for many years and have built thousands of metal carports during that time. 
So, look over the benefits of installing a carport and then contact us to get started with your new steel carport.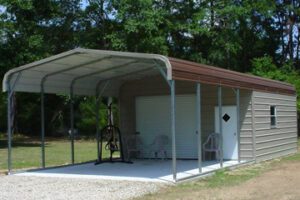 Central Florida Steel Buildings and Supply carports offer numerous benefits, making them an excellent choice for homeowners across the country.
Check out the list below to learn about the many advantages of a metal carport.
Make It A Gathering Place
If you are planning an outdoor event and don't want it to be rained out, a prefabricated carport can provide you with a party pad that is protected from any potential downpours.
It also provides a shaded area for anyone who does not want to be in the sun and keeps your food from spoiling.
Protect Your Vehicles
When compared to the cost of a garage, a steel carport is a more cost-effective option.
Furthermore, it will protect your car, motorcycle, and RV from severe Florida weather and provide cover for other outside items.
Protect Your Grass
If you do not have a carport, you are more likely to damage your grass by repeatedly parking upon it each day.
So rather than letting your grass turn into tire tracks, install a steel carport, and make your lawn the envy of your neighbors.
Take Advantage Of The Convenience.
No matter how large your vehicle is, a carport provides easy access when getting in and out of it. There will be fewer accidents and damage regardless of the time of day due to the open space and lack of enclosing walls.
Increase Your Home Value
Metal carports are an excellent addition if you want to increase the value of your home.
They will not only keep your house looking tidy and loved when potential buyers come to view it, but they are also an excellent way to increase the value without spending more than you can afford.
Keep Outdoor Furniture Safe
When the rough Florida weather arrives, store your furniture in your carport to protect it from the elements.
Not only will this save you money on repairing or replacing outdoor furniture each year, but it will also allow you to get outside and enjoy the sun as soon as it begins to shine.
Create A Pet Shelter
If you have pets who enjoy being outside, you will need to protect them from the elements. They will require shade constantly in Florida and shelter from the frequent rain, and other inclement weather.  A metal carport if perfect for this.8. 
Add Some Outdoor Storage
If you enjoy gardening but lack storage space for your tools and machinery, a metal carport could be the solution.
There are many more advantages of a metal carport.  Call us today to discover all the benefits.