Does A Metal Carport Increase Property Value?  Here Is The Truth!
As a property owner in Florida, you will do whatever it takes to increase the value of your property.
You increase your assets by adding value. While there are numerous options available, installing a metal carport is one of the most effective and prudent.
There are several advantages to selecting a metal carport as your first option.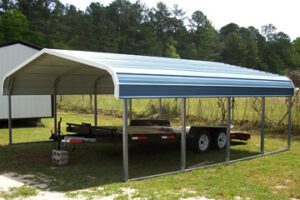 Metal Carports Factors
First is the fact that metal carports protect your vehicles.
Automobiles are expensive.
This means you want to protect and preserve them in any way possible. A metal carport can shield your vehicle from the elements of the weather.
The sun, wind, and rain can all cause wear and tear on your vehicles. By protecting them with a structure like a quality metal carport, you can help to preserve the exterior of your vehicles and keep them looking new.
Second, upon construction, you have automatically made the property more valuable.
A metal carport is an additional feature of the property that any potential buyer would find useful.
It is easily transformable into a selling point for the home. What makes it an even better option is that you get to reap all of the benefits that it has to offer while still improving the property value.
Third, metal carports are extremely attractive and require little or no upkeep.  This lack of upkeep make it financially independent and a fantastic investment for any homeowner or business owner.
If you want to increase the value of your home, you must ensure that your Metal Carport will retain its strength and attractiveness.
If it isn't capable of doing so, the increase in property value will be short-lived because the carport detracts from the property's allure.
Investing in a high-quality metal carport is one of the most cost-effective ways to increase property value. They are inexpensive and simple to install.
Consider the positives above if you decide to increase the value of your property with a metal carport.
However, in order for this to be successful, the metal carport must be made of high-quality materials and workmanship.
And where would you find those traits?
Central Florida Steel Buildings and Supply of course.
CF Steel is one of the most well-known metal building companies in the state of Florida.
We pride ourselves on our sturdy, attractive steel buildings and our exemplary customer service.
Our buildings come in a huge variety of styles, colors, and options.  Visit our website today or call us at 1-844-372-3464