Whether it is a garage, workshop or 150,000 square foot retail structure, a metal building is a fantastic option. If steel buildings are a new concept to you, then here are 5 reasons you should own a metal building.
Increase Property Value
Adding an attractive, functional metal building to your property is a guaranteed investment. Most real estate professionals agree that adding a garage or other structure will give a return on investment of 2-3 times the initial cost.
Using metal buildings adds a quick and easy way to house boats, cars, motorcycles or RV's. It can also protect valuable from bad weather or crooks. Steel structures can even be completed with materials such as block, glass, or stucco to enhance the aesthetics even more.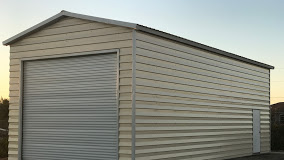 Low Maintenance
Steel is considered almost an ageless material as it holds it seamless looks and functions over a LONG period of time. Compare steel to wood, which rots or decays quickly and has to be replaced quite often. In addition, steel is resistant to mildew or mold and is never attacked by insects like termites. And storm damage? Forget about it with metal buildings!
Energy Efficient
With metal buildings, you can get double layered insulation, or an integrated ventilation system in your design that will help dramatically on energy costs. Not only that, but the coating on a steel roof may contain special pigments that cool and reflect the heat from the sun. This can reduce your air conditioning bill to an amount that will make you smile.
And of course, steel is a recyclable material as we all love green!
Very Versatile
Metal buildings can literally be used for any type of business and even a home. Examples include churches, schools, restaurants, retail stores and more. No matter what type of business you may have, there is a metal building solution for you.
And these buildings can be erected MUCH quicker than buildings with traditional materials so you can be making money in no time.
Maximum Interior Flexibility
The majority of steel buildings have no load bearing walls when erected. This means that you are limited only by your imagination when getting your building design. Want a new weight room? How about a recreation room or man cave? Metal buildings allow you the flexibility to create a floor-plan that fits your needs. Also, these buildings are super-simple to remodel if you change your mind or needs regarding your building.
There are many great reasons to own a metal building. If you are ready to take the leap, call Central Florida Steel Buildings and Supply today at 1-844-372-3464 or get a quote here!
Go to Metal Building Systems