Why Should You Invest In A Small Metal Carport?
Do you want to keep your automobile or truck safe against hail damage? Do you get tired of trying to deal with constant sun, rain, and sand?
The answer is  small metal carports from Central Florida Steel Buildings and Supply! Our metal carports are incredibly durable and versatile, with open-air, partially enclosed, and fully-enclosed options available. You can also select from a variety of roof styles and a variety of color schemes. When compared to metal carports made of wood or other materials, these precision-engineered steel structures are noted for their strength, longevity, and cost-effectiveness.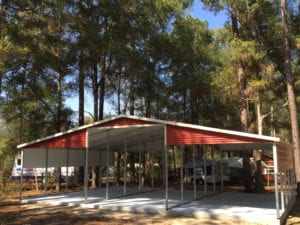 Our metal carports are great for protecting your vehicles and equipment from the elements, but they may also be used for other purposes. To keep you dry and safe, a carport from Central Florida Steel Buildings can be used as a covered picnic area or an outdoor studio.
What Carport Dimensions Do You Require?
When choosing a metal carport, one of the first decisions you must make is how you intend to use it. You'll want to think about how much space you'll need to fit your vehicles and any other items you'd prefer to keep hidden.
It's also a good idea to leave room for future vehicle or equipment purchases. Central Florida Steel Buildings and Supply offers prefabricated steel carports in a variety of sizes to suit your needs.
 A single car can usually fit in a 12′-wide carport, but we can also build metal carports to hold two, three, or even four cars!
The normal carport length is 21′, however we can generally expand the length as long as you require.
The height of the vehicles or equipment you want to cover should also be considered.
Carport height starts standard at 6' and can be extended up to pretty much any height you require.  We can build metal carports tall enough to house everything from RVs to combine harvesters!
Roofing Options for Metal Carports
The roof style you select for your custom steel carport has a considerable impact on the functionality of your carport as well as the ultimate cost. When picking a roof design for your steel carport, keep in mind the weather in your area.
If you reside in a location where heavy rain is more common, a vertical roof type is recommended.
The boxed eave style roof has a similar peak to the vertical design, but the panels are positioned horizontally rather than vertically. As a result, if you live in an area where there isn't a heavy rain, we recommend getting a boxed eave roof design carport.
Prices for Small Metal Carports
Our prefabricated metal building costs are among the most competitive in the engineered steel structures industry in the state of Florida.
The amount of customization (roof style and dimensions), any additional materials desired (wall panels, gables, doors, windows, anchors), the gauge of frame (standard 14-GA or sturdier 12-GA), the gauge of sheet metal (standard 29-GA or sturdier 26-GA), and the certification or building permit requirements of your region will all affect the price of a pre-engineered metal carport.
Benefits of Steel Carports
Steel structures are preferable to stick-built or other material structures for a variety of reasons, including the following:
Low-Upkeep – Compared to wooden structures or other materials, metal is easy to clean and requires less maintenance. You also don't have to worry about peeling or fading paint because the color is absorbed into the metal.

Durability – Steel buildings do not rot like wood and can withstand regular use as well as extreme weather conditions such as high winds, heavy rains, accumulating snow, lightning, and even earthquakes! Metal paneling can also be coated with aluminum compounds to assist prevent rusting and extend the panel's life.

Fire and Pest Resistance – Steel is resistant to termites and other pests, and it does not hold mold or mildew. Steel is also extremely resistant to fire.

Easier To Customize – Steel's adaptability allows for more intricate architectural ideas and interior space that is more open. Metal buildings are also easier to expand as your space requirements change.

Insurance Is Less Expensive – If you choose a steel building over other options, your insurance premiums may be lower due to its higher strength, longevity, and fire resistance.
Ready To Order from Our Selection Of Small Metal Carports?
Visit our website and Contact us today to learn more about our metal carports and what we can do for you.