Everyone knows that Florida is one of the world's most popular vacation destinations.
And why not?
The state features some of the best beaches in existence, unbelievable cities, and of course the best theme parks around.
But what about Central Florida?
This part of the state is often overlooked and that is a shame. 
As a company based in Ocala, we know that there are a ton of things to do in and around this city.
Let's take a look at five of our favorites.
1. Appleton Museum of Art
One of the hidden gems in Ocala is the Appleton Museum.
The structure is embedded in a strip of businesses and close to the famous attraction, Silver Springs.
The Museum features a permanent and impressive collection of African, Asian and pre-Columbian works that will inspire as well as amaze you.
There is also visiting exhibits that often showcase work by Florida artists both known and unknown.  Modern art seems to be a recurring theme.
If you love the arts or even if you don't, the Appleton is a MUST stop!
2. Silver Springs
Truly a spiritual experience, this nature park has been around for many decades. 
Remarkably, many movies and television shows were filmed here including Tarzan, and The Creature From The Black Lagoon.
The park fell into financial troubles several years ago and was purchased by the state and turning into a state park.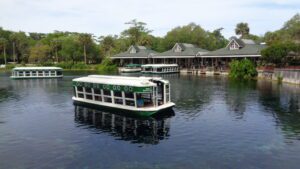 The attraction is the clear, deep, spring water that is viewed best by glass bottom boats.
The boat rides are educational and offer a glimpse of nature including alligators, birds, fish, and even wild monkeys.
The park formerly had many animals including bears, giraffes and more but those days are long-gone.  Now, it is simply a beautiful nature park that is a fantastic place to spend the day!
3. Alexander Springs
The Ocala National Forest is a protected scrub pine forest that is protected and is home to many natural springs.
One of the best springs is Alexander Springs recreational area.  It is a wonderful place to take a family and check out all the available nature-related opportunities.
The biggest attraction is of course, the actual spring.  Crystal clear water that remains a constant 72 degrees year-round, it is a favorite place to snorkel, swim or even scuba dive.
Included in the park are picnic areas, plenty of walking trails and a nice campground for RV's or tents.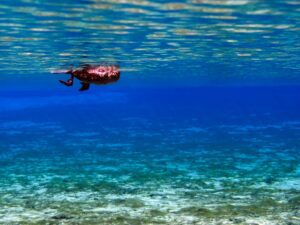 There are picnic areas and paved walking trails around the spring and a campground with spaces for tents and RV's.
In addition, it is a great place to fish, go canoeing or kayaking, and even places to ride ATV's.
Make sure to check out Alexander Springs if you get a chance.
4. Shalom Park
A place that very few Ocala residents even know about is Shalom Park.
It is perhaps the most peaceful place in the entire town.
The park consists of 44 acres and is manicured to perfections with plenty of native plants, shrubs, trees, and perennials.
You simply walk through the nature preserve and enjoy the stillness and quiet.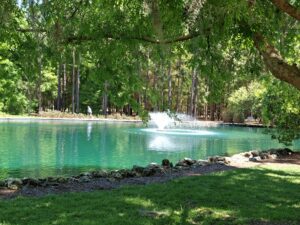 There is really nothing like it.
The best part is the small lake with paved walking trails around it.  You can even purchase fish food and watch the feeding frenzy off a covered dock. 
If you are in the area, be sure to check it out and destress.   
5. Ocala Zip Lines
Now, Ocala is basically a flat terrain, so who would of thought it could host a zip line course?
But that is exactly what has happened with the Canyons Zip Line and Canopy Tours.
The best option without a doubt is the Big Cliff Canyon Tour.  It takes you through 9 zip lines, a rappel, and 2 rope bridges.  Some of the heights on this tour are over 130 feet and go directly over a lake!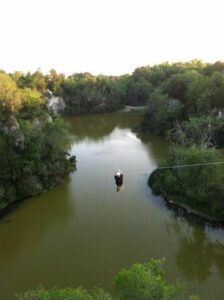 It is a blast!                                              
Make sure you get a reservation though as it stays very busy.
Feeling adventurous?  This is the place for you.
There are many other awesome things to do in the Ocala area so get out there and experience everything the town has to offer!
We hope you enjoyed our 5 things to do in Ocala Florida blog post!
Check out our Ocala Steel Buildings page!
Go to Central Florida Steel Buildings and Supply.